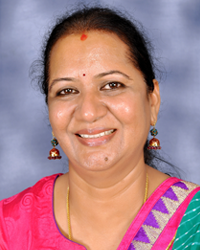 Mrs. Lalitha Raghuram
Country Director
Lalitha Raghuram is a compassionate, enthusiastic and a high-integrity individual and as the Country Director of MOHAN Foundation, she is committed towards achieving organizational objectives through optimal leverage of human & technological resources.
She has a rich, broad-based expertise in health care management arising out of 27 years of experience with leading eye care and not-for-profit organizations around the world. She was an Administrator of L.V. Prasad Eye Institute for seven years (1986-93), following which she became the Executive Director of Eye Bank Association of India, where she served for 9 years (1993-2002). Having been trained internationally in USA, Prague and UK, she started MOHAN Foundation in Hyderabad in 2002.
In the year 2004 Lalitha'spassionate commitment to her profession transcended deep personal tragedy. In a tragic incident, her young 19 year old son had a fatal road accident and was declared brain dead. Walking the talk, Lalitha and her husband took the heart-breaking but inspiring decision to donate their son's organs. For this brave and noble action, they were presented the CNN IBN Real Heroes Award.They received a trophy and a cash award of INR 5 Lakhs, which they have donated to MOHAN Foundationto further the cause of organ donation.
Most recently, Lalitha has been inducted as an "Ashoka Fellow". Ashoka Fellows are social entrepreneurs who have made a difference in the society through their innovative work. She has also received the "Rotary Vocational Excellence Award" among several other awards.
In 2016, Lalitha received "Women in Transplantation Hero Award"instituted by The Transplantation Society, during their conference at Hong Kong in August 2016.