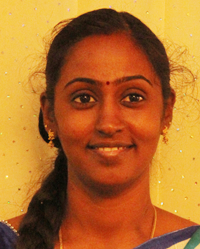 Sujatha S
Manager - Information Systems (MIS)
Sujatha S is the Manager – Information Systems (MIS) with MOHAN Foundation. Being a post graduate in Social Work, she started her journey with the Foundation in 2010 as a Transplant Coordinator. She was deputed to Rajiv Gandhi Government General Hospital (RGGGH), Chennai where she was involved in counselling the families of brain stem dead patients and facilitating the organ retrieval process. A few years later she was promoted as Manager – Information Systems that involves managing the reporting system within the organization, collating the activities of different centres, data mining and analysis, and reporting to the funding organization(s). Her experience at the RGGGH also allows her to contribute to the Transplant Coordinators' Training Programme as faculty for grief counselling and deceased donor coordination. She is also involved in developing and supporting the one year E-learning programme for Transplant Coordinators.
She is the recipient of best paper presentation award for her paper on "Impact of Transplant Coordinators' Training Programme" at the 5th Annual Transplant Coordinators' Workshop held in 2012. Her poster on "Macro opportunities; Micro utilization" won the best poster award at the 7th Annual Transplant coordinators' Workshop held in 2014. Her abstract entitled "Deceased organ donation in a public hospital – A model programme" was accepted for oral communication at the International Society for Organ Donation and Procurement (ISODP) 2015 conference.
Sujatha S has previously worked with cancer and HIV/AIDS patients and her interest in palliative care continues.