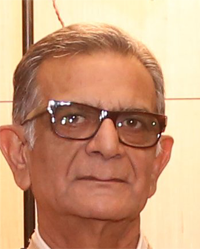 Sudhir Dewan
Hon. Director – North
Sudhir Dewan has been associated with MOHAN Foundation since 2010, working to promote deceased organ donation in Chandigarh, Panchkula & Mohali, extending to other cities of Punjab, Haryana & Himachal Pradesh.
Sudhir is an M.B.A. with 40 years of experience in Pharmaceutical & Hospital Marketing. He was the Chief Executive Officer of a multinational organization before taking on the work of the Foundation. Sudhir brings with him excellent communication skills and expertise in team building and administration.
Sudhir himself underwent a liver transplant in 2008. After experiencing firsthand the lack of awareness regarding organ donation and the frantic & traumatic search for an organ, he decided while in ICU itself, to devote the rest of his years to the cause of organ donation.
Sudhir, starting from scratch in Chandigarh, has conducted innumerable awareness sessions and has helped in the coordination of over 50 Organ Donations in the city. His major achievement has been the involvement with Command Hospital, Chandimandir which has contributed majorly in Organ Donation scenario in the Armed Forces.