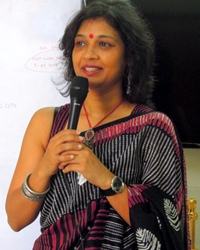 Pallavi Kumar
Executive Director -(Delhi-NCR)
Pallavi has been in the development sector for over 20 years, working for a variety of organizations and causes. She started the Delhi-NCR office of MOHAN Foundation in the year 2011.
She brings to the sector her sensitivity and skills in relationship building & strategic communication. Her experiences raising funds for causes large and small has helped her understand how crucial fundraising skills are for an organization to be sustainable. Her expertise lies in fundraising from individuals and she won the award for the 3rd Highest Pledge Raising IPledger at the Airtel Delhi Half Marathon in 2013.
Her work with Tamil Nadu Kidney Research Foundation in Chennai helped her understand the plight of patients living with end stage organ failure requiring a transplant for survival on one hand and the acute shortage of organs in our country on the other. Armed with this understanding, and her deep passion for social causes, Pallavi is taking forward the important work of the Foundation in the North.
Prior to this, Pallavi was heading the South Asian Fund Raising Group (SAFRG). She was also with Charities Aid Foundation (CAF), spearheading the individual donor giving solutions, before which she worked with NAZ Foundation for almost 5 years and is still associated with it.
At MOHAN Foundation, she has launched unique program called "Angels of Change" in which selected student volunteers from schools and colleges are taken through a customized training module to enable them to undertake awareness initiatives on organ donation amongst various audiences. She made a poster presentation on the same in the 13th Congress of ISODP (International Society for Organ Donation & Procurement) in Seoul, Korea, which was very well received.