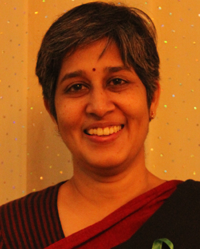 Dr. Sumana Navin
Course Director
Course Director
Dr. Sumana Navin has been associated with MOHAN Foundation since 1998. In her present role, as Course Director, she travels across India training transplant coordinators and educating healthcare professionals about organ donation and transplantation. She has been instrumental in framing the curriculum and developing the course content (including E-learning) for the Transplant Coordinators' Training Programme. She has been involved in the training of over 1000 transplant coordinators from 2009 to 2015.
She did her M.B.B.S from Osmania Medical College, Hyderabad after which she completed her Post Graduate Diploma in Hospital Administration. She has been the editor of the Indian Transplant Newsletter since 1998 – a publication from MOHAN Foundation that focuses on the organ donation and transplantation programme in India and abroad.
In 2014, she was part of the MOHAN Foundation team that was invited by the Society of Organ Transplantation, Bangladesh to conduct the first-ever transplant coordinators' training programme in Dhaka. Her paper on 'Impact of Trained Transplant Coordinators on the Deceased Donation Transplantation Programme in India' was conferred the Best Abstract Award at the Congress of the Asian Society of Transplantation that was held in August 2015 in Singapore. She was invited to be an observer by the NHS Blood and Transplant, UK at the Deceased Donation Course for Intensive Care Medicine trainees held in Nottingham in February 2016.