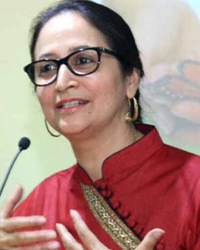 Dr. Muneet Sahi
Programme Manager
Muneet is a medical professional with a rich and varied experience in public education; counseling and mass media diffusion related to cancer detection, AIDS, child safety and career guidance is currently part of the MOHAN nucleus in Northern Zone (Delhi).
She brings to the organisation her understanding of people and her effective speaking skills. Meticulous to the core, she takes care of all the important documentation in the office. She unravels for her myriad audience the deep and emotive issues involved in the decision to donate one's organs. By virtue of her mature approach and years of experience in public life as a doctor she has proved herself invaluable in dealing with distressed kin of potential donors during her day to day work. She is also a passionate trainer.
She was awarded the Best Transplant Coordinator award in the year 2013 at the Transplant Coordinators' Workshop held in Hyderabad.
Prior to this she was working at various Indian Navy stations as a health coordinator and liaisoned for camps and welfare activities for the kith and kin of the defence personnel. She has also had a long innings as a private practitioner running an independent dispensary.